Immigration - Our Story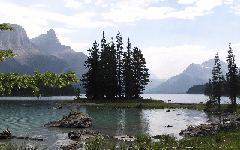 I guess it all started in 1998 with a trip to Edmonton visiting Andie's sister who had moved there after marrying a Canadian. Whilst doing all the good tourist things along the Ice Fields parkway, Jasper and Maligne Lake (Spirit Island photo to the right), we also experienced life in a Canadian household. Eventually we left, drove across to Whistler, then down to spend 4 days in Vancouver before we flew home to Germany. Basically, we totally fell for the country with its spectacular scenery, clean air and seemingly low stress lifestyle.
We discussed living in Canada in great length, I was an Aircraft maintenance technician in the UK Air force (RAF) and Andie was a travel agent expecting our first child. Andie wasn't convinced about it and so emigrating seemed a distant and unlikely dream.
In October 2000 Andie and our 18 month old son flew across to Calgary to visit her sister. On their return, Andie explained the fantastic lifestyle that her sister was enjoying - large, cheap housing, great facilities, fantastic scenery, lots to do, friendly people, no vandalism and a real community spirit. Basically, everything we wanted for our family. I didn't take much persuading when she asked "should we go for it"?
The Visa
I was visiting Calgary and Edmonton quite frequently with the Air force and we started some serious research into how to emigrate and the visa requirements. The main book we used for researching Canada was the The Rough Guide to Canada - we still have the same copy and use it extensively.
We tried a few self assessments to see if we would qualify and it all appeared to be ok. I was to be the main applicant and would have 74 points (70 required) as skilled workers under the old system. We contacted the Canadian High Commission in London who sent us an information pack including the latest issue of OutBound Publishing's "Canada News".

This is a monthly paper for potential immigrants, it's full of great, reliable information and articles, so we decided to subscribe. It was frustrating reading all the stories of people who had already landed as immigrants and were having a great time; we really wanted it to be us.
I started to study for my civil aircraft engineers licenses to increase my qualifications. Then, in Feb 2001, Andie's sister said she had spoken to the immigration office in Calgary to make some queries and had found out that I wouldn't receive 5 points for her being a resident in Canada as she wasn't MY sister but my wife's. Panic set in as we were now short by a point and things were looking bleak. All the literature said that if you didn't have the points, don't bother applying as it would be a waste of time.
We decided that we'd have to hire an immigration professional. We opened up the Canada News and scanned the adverts - the first one we saw was Access Migration Services who offered a free assessment - unfortunately they no longer support Canadian applications. We called and spoke to Kerry Martin and discussed our story and fears. We received the assessment in the post and we filled it in and returned it the next day. Kerry decided that we had a good chance of qualifying and so offered us a "no visa no fee" contract and so the process began.
We were inundated with different forms and questionnaires and were set to start researching more thoroughly what it all entailed. It scared me to think how amateurish our application would have been. My educational qualifications were assembled and sent off to Alberta's assessors at IQAS in Edmonton for assessment to give a Canadian equivalency. I had to track down all my educational course calendars and curriculums from previous educational establishments - not a straight forward task.
Then it was time to contact Transport Canada to see if my aircraft maintenance licenses were valid. To my dismay, they weren't but I would be able to sit some exams, provide a full history of my experience and work for a minimum of 6 months in Canadian Aviation. It didn't seem too bad considering I was hoping to move continents! I applied for an assessment from the Canadian Council of Technicians and Technologists to consider my engineering qualifications to aid the application. We had to send off for police checks from Germany (we had lived there for more than 6 months), the UK police and the military police to prove we had no criminal records. We knew that once they were back we would be ready to submit our application.
Our daughter was born that summer, which made for a crazy time with all the research we were trying to do. Also, the Canadian visa system was changing; no-one knew what would happen or when it would come into effect. Kerry kept us informed whenever she heard anything and was very reassuring during a troublesome time. We would always rush to the door when the next Canada News was due to see if anything had been announced - all that was released was that the points required would be higher and may be back dated.
I was still visiting Calgary with the RAF though had given 18 months notice to leave as the Immigration authorities required an exit date from the RAF - 17th Feb 2003. We sat and watched the horror of September 11th unfold; the aviation world collapsed and with the rest of the RAF became involved in the Afghan War and the unstable world climate that followed.
We spent another 2 weeks at Andie's sisters on vacation in 2001. We had another amazing time - quad biking, hiking, trips to Banff, viewing show homes (Always a dangerous pastime) and getting a feel for Southern Alberta and its amazing opportunities. On our way home the airline (Canada 3000) went bankrupt as we flew - another bad sign for my future employment. On our return we found the police check from Germany had arrived but the actual form was in German - all the accompanying literature was in English - so we had to translate it.
Finally, with the translation finished, we were ready to apply. We sent the details off to Kerry, who returned professionally presented paperwork with supporting documents to us to double check and sign. We sent them back with the fees for the High Commission and the wait began. Then, the new system was announced with stricter point scoring that would be back dated to all applications received after December 18th 2001. Ours had arrived there on the 19th December!!!!!
Once again our plans were in turmoil. We wouldn't qualify under the new rules and desperation set in. Kerry again proved to be a massive help and kept us reassured that as the new system hadn't been ratified by the parliament it wasn't set in stone. An awful lot of people were caught in the same boat and rumblings about legal challenges started to appear from immigration lawyers in the Canada News.
Suddenly, the authorities backed down and changed the date to June 1st 2002. All applications processed before then would be under the old rules - we were back in with a chance.
We found the first stage of the process (waiting for a file number) very frustrating. Andie seemed able to find some good excuses to phone Kerry to see if anything had arrived - even though we knew that she'd phone straight away if it had. Then in Feb. 2002 the file number arrived - we were being processed, next was the wait to see if we were called for an interview, accepted or declined.
Again the wait was crazy - Kerry kept us busy with regular information mailings on Canada with even more research ideas and the reassuring voice on the end of the phone was worth the fee in itself. Andie's sister was also busy in Calgary phoning airlines and maintenance companies to establish points of contact for me. I had started to look at other employment and began some project management courses. As with my aircraft maintenance licenses I soon realized that UK qualifications wouldn't readily move to the Canadian system. I contacted the Southern Alberta Institute of Technology (SAIT) and found they had an impressive curriculum of courses including several Project Management offerings and some great technical pre-employment courses that had a good history of the candidates finding employment in the field of choice.
One day, when we had almost given up, the phone rang before Kerry's normal office hours. We had been accepted subject to passing the Medical examinations and were not being called for an Immigration Interview! Andie went through the list of approved clinics that can carry out the medical and found that the nearest was in Oxford. She phoned straight away to find that there was a long waiting list but they managed to fit us in for 8 weeks time. Now the excitement was building. We thought long and hard about putting the house on the market - we needed to know it was sold before we could plan on moving. We decided that if we failed the medicals, I would still be leaving the RAF and we would move away from that area anyway. We asked Andie's parents if we could stay with them for a while if we sold the house.
After checking a few estate agents we put the house on the market at the end of June 2002 - we had a buyer in 3 days offering the full asking price and was wanting to move in by the end of August. The date was set for the 31st August and we would move out on the 29th. We couldn't believe our luck - little did we know that a debacle was about to unfold. About a week later, the medicals clinic phoned up and apologized saying that they had double booked us and we'd have to reschedule the appointment. Andie had "a bit of a chat" with them and eventually, they relented and managed to squeeze us in as an extra appointment which saved the day and several months wait.
We started to plan the move as we had suddenly realized it would be a bit complicated trying to schedule everything for the move. We would have to leave our house in the summer to stay with Andie's parents and would need summer and winter gear for the kids along with a selection of their toys, put a load of things in storage prior to the move, sell/ give things away and take loads to the dump! Andie organized most of the moving while I started emptying the loft and shed and heading off to the dump twice a weekend. I'll admit, we had much needed clear out and we managed to sell all of the items we had to get rid of.
With the sale looking good and both sides after a swift deal we worked out our finances and started to cash our savings in to book a currency transfer. We would be going to Canada for the whole of October and we would be able to house hunt then if the funds were there. We booked our currency transfer and based it on the house sale being completed by the middle of October.
Meanwhile it was time for the medicals. All 4 of us had to go - the kids didn't have x-rays or blood tests but we each had 40 minutes with the doctor, hearing tests, and blood pressure test. Even though there were no health issues as far as we knew I managed to stress about the whole deal and ended up failing the blood pressure test. Apart from the embarrassment I had to have a cardiograph to make sure I was ok. This delayed the medicals being sent back by a week as the cardiograph had to be analyzed by a cardiologist. I didn't feel too clever! With the medicals over we decided to check out the different shipping agencies.
Kerry recommended Personal Shipping Services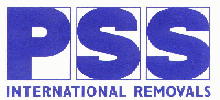 International removals who gave a competitive quote and were a family run business with a good reputation. We phoned to book them and realized that we had almost left it too late. Thankfully, they managed to fit us in as we only had a relatively small load to ship. We agreed on a shared container for the shipping on a door to door service. They would arrive to pack everything on the 28th August - we just hoped that the medicals had been ok!
Unfortunately, things with the house sale were starting to go wrong. With the moving date fast approaching we weren't receiving any feed back from either our lawyer or estate agent. Whenever Andie had called she was assured everything was fine and the date was still on - to exchange contracts on the 24th August and complete the sale on the 31st. By 4 o clock on the 24th we had not heard a thing - when we finally got hold of the lawyer, he nonchalantly stated that the exchange hadn't taken place as there were outstanding issues with our sale and further down "the chain" there was a first time buyer without a mortgage! On top of that the lawyers had fallen out and were only communicating by Fax and letter! Some Professionals! We ended up having a massive argument with the Lawyer and then the estate agent for their total lack of communication. Unfortunately, we couldn't sack them as then the whole process would have to start again and there would be no chance of us making the currency deadline.
We couldn't cancel the removals at such short notice either as it would incur large penalties. So we were facing moving out to Andie's parents and leaving the house empty whilst still paying the mortgage, taxes and bills. On top of that the insurance was only valid for 30 days once it was empty and we were committed to a currency transfer with insufficient funds to pay.
All the moving went according to Andie's plan apart from some mobile phone chargers were inadvertently shipped which was pretty good. We started living with Andie's parents which went really well, I was on some computer courses and managed one last flight to Calgary.
The stress was starting to rise over the house sale as it appeared to have totally stalled. We contemplated calling it off and starting again but Andie's mum advised us to just sit tight and hope for some common sense to shine through. With the entire house "carry on" we had forgotten about the visa application. Suddenly, an excited Kerry phoned with the news that we were in and just had to sign some documents and send in our passports and photo's to claim our visas. There is only a 3 month window where the forms were valid - we were off to Canada in 3 weeks so it would have to wait until we returned home. At last the relief of knowing took away the house nightmare for a day or two! Unfortunately, our parents were sad as it meant we were definitely leaving and so all their grandchildren would be out of the country. The good news was that we could plan the date of our move to coincide with my exit from the RAF and I could use my resettlement to attend some courses at SAIT whilst still being paid by the RAF. The date was set - January 11th 2003.
We decided to send the paperwork off once we had returned from Canada as the house drama was starting to become serious. We were about to set off to Canada for a month and the sale was still stalled. We managed to gain assurances that things were moving behind the scenes and that at would be completed in time for our money transfer, all we could do was board the plane and hope for the best!
House Buying
Two days after our arrival in Canada, we met up with a realtor called Denis Champagne who was recommended to us by Andie's sister. He came to see us and spent over an hour discussing our budget, requirements and dreams. Once he was convinced we were happy with our goals he arranged a second meeting for a couple of day's time. The next time he took us on a tour of the town we liked and showed us the schools, amenities, all the different housing areas, everything you would need to know about a new town - all of this was at no cost to us as the realtor earns commission from the seller. When we arrived back at the house, Denis left us with a list of properties that were for sale that matched our requirements and arranged to discuss some viewings the next day. We called and agreed to view 8 houses. Again Denis picked us up and took us to all of the properties - in each one he made points on the pro's and cons, the length of time on the market, how much similar properties were selling for and plenty of other great information.
Eventually we decided that none of the houses we saw had that special something we were looking for so Denis took us to see Sarah Fullerton of Beattie Homes. On the way Denis explained that Beattie were a well renowned local building firm that had a great reputation for a quality build and exceptional after sales service. We viewed all the different floor plans and checked out all the lots that were available within our price range. We took away some plans and prices and agreed to call Denis in a couple of days.
We returned to Andie's sisters house to find that the exchange of contracts on the house in the UK had gone through with the sale to be completed the following week. We would have the money for the transfer with 3 days to spare! The last piece of the jigsaw was almost in place.
We had discussed hiring a vehicle for the remainder of the time when our brother in law (who used to sell cars for Ford) had some contacts and why didn't we just buy one, store it with them while we were back in the UK and then it would be ready for us when we landed in January. We did some research and decided that the Chevrolet Venture mini van would suit our needs and was reasonably priced. We were put in touch with Frank Sanguellini of CMP Classic, Chevrolet Oldsmobile Dealers in Calgary. Frank took the time to explain everything to us and with his finance department tried everything they could to give us 5 years interest free credit. Unfortunately not being resident at that point was just too big a hurdle! We thought long and hard about the deal but after a discussion over beer with my brother in law we decided to go for it once the money had cleared. We phoned around for some insurance quotes and found that Thomsen Fisher of Medicine Hat gave the best rates through Axa Pacific. We had taken our international driving licenses and they were fine for insurance purposes. We were all set.
At the same time we had applied for a mortgage with Scotiabank and were provisionally approved pending letters from our employers (UK), proof of funds and other security checks. We were amazed at how nice everyone was and we didn't need to have confirmed Canadian employment as long as you put down a 35% deposit. We were definitely the customer and made to feel quite important - a big difference from the service in the UK.
The house sale went through, the money arrived into our UK bank in 48 hours. It was time to spend!!!! We went in to see Sarah with Denis and wrote out the house purchase agreement. Denis handled all the negotiations on our behalf but always made sure we agreed to everything. We put down the 10% deposit and Sarah put the house building process into gear!
Next we met up with Frank and signed the deal for the van. We arranged a date to pick it up and off we went. When we picked it up, Frank took us to the registry and made sure we were looked after there and then drove us back to the dealership to carry out a full inspection and demonstration of the vans features before we took her away.
Sarah Fullerton called us to say we needed to choose our interior designs before we went back to the UK. Luckily, Beattie has a one stop design studio so you can sort it all out in one visit (most builders have different venues for the flooring, kitchens, bathrooms etc and you drive all over the city) and have the luxury of a qualified designer helping you throughout the process. We met one last time with Sarah to leave our UK contact details and she explained what would be happening whilst we were back in the UK. She was aiming for a house possession date of the 28th March 2003 - we would stay for 11 weeks in Andie's sister's basement until it was finished. The month had come to an end but we had accomplished far more than we had expected and the house was finally off our back, things were definitely looking up.
The Big Move
The day after we returned, we gathered up our documents and photo's and sent them recorded delivery to the High Commission in London. It would take approximately 3 weeks to process and then we'd be on our way.
We asked Kerry about transporting our Golden Retriever - there was no way the kids would be leaving him behind! There are 2 basic ways of transporting animals - with you checked in as excess baggage or shipped as live freight. We decided that even though it was a lot more expensive to ship separately, he would be put in the crate at the last possible minute so avoiding any unnecessary time in there. It also meant that we would have a couple of weeks to sort ourselves out in Canada before he arrived - no waiting at the airport once we'd landed while he was inspected by the vet and released by customs. Kerry recommended Airpets Oceanic who provides a complete service including custom built crates, kennel service, vets inspection and customs paperwork. They were next door to Heathrow airport and so the transport time for the dog would be minimal. We booked with them and ensured all the dogs inoculations were up to date including rabies.
Next we booked our one way flights for the 11th January 2003 - that seemed strange and suddenly very final. I managed to fit in a week long project management course before my final couple of weeks in the RAF. It seemed almost surreal when we started meeting up with family and friends to say goodbye - especially at work. We'd managed to sell both vehicles and made all our final arrangements for our UK affairs before Christmas. We had decided to maintain our UK bank account so arrangements for internet banking and long distance dealing s were made.
Before we knew it, we'd spent our final Christmas and New Year as UK residents with our families and it was time to pack up the last load of things to be sent by courier and load up the suitcases.
We had a very emotional last night and morning and were given a lift up to Manchester Airport by friends. My Aunt was there to see us off and then that was it, we were on our way.
Arriving In Canada
The flight with My Travel was ok but we ended up with an unscheduled stop in Goose Bay, Labrador for fuel, adding an extra 2 hours.
We were dreading the actual processing at Calgary and sorting out all the paperwork - it turned out to be really quick despite the renovations taking place. The Customs and Immigration personnel were great and really gave us a welcome. There were a few formalities, our documents were checked and a couple of forms were filled in. Then we sorted out all our paperwork for the goods to follow declaration and that was it. Including collecting the bags I think we were through in 1 1/2 hours. It was +8 when we arrived, we woke up the next day to -17! Welcome to Canada!!!!!
We went straight down to see the house and found the exterior close to completion. We were lucky that the winter had been mild through to december and so there hadn't been any holdups in construction. We had a couple of days to sort ourselves out and then began the arriving procedure - applying for SIN numbers, Alberta Health numbers, finding doctors and dentists, oh yes and getting used to the snow!!!!
I had a week long project management course at SAIT (Calgary) 10 days after we landed which proved to be an excellent addition to my resume. Andie hadn't wasted any time and was already working part time at the local Movie Gallery video store to start bringing in some cash.
Soon the 2 week wait for the dog to arrive was over and we headed to the airport to pick him up. The kids were beside themselves with excitement. We went to the Air Canada cargo hanger, collected the customs paperwork, then drove back round to customs to clear there for a $30.00 fee. Finally, it was back to the cargo hanger to collect a terrified dog! He did a double take and suddenly went absolutely crazy - along with the kids.
I had enrolled in an 8 week Non Destructive Testing pre employment course at SAIT but soon found that I hadn't accounted for the licensing agency exam fee's which doubled the cost of the course to $8,000. The course had already been delayed which meant I wouldn't be available to work until May 2003.
I felt really disappointed but then remembered the Overhaul shop I had researched the previous August. I went through my notes and decided to phone them up. After a quick chat with the HR director I emailed my resume to them. Everything was ok and I was invited to an interview the following Monday at 9:00 am. Andie came home from an afternoon shift to discover what had occurred. The interview went well, I was offered a position and was to start 3 weeks later!
I suddenly realised that when I was calculating our budget before we signed for the house, I had forgotten to account for income tax and wage deductions! I couldn't believe what I had done and how lucky we were to have got away with it!
The house was moving along well and we were delighted when Sarah told us that the possession date would be 14 days early! We started looking for furniture, the basic price seemed a lot but with sales and haggling we thought it was reasonably priced. There is a multitude of places for electrical goods - we decided to shop at SoundsAround - a locally owned store that gave us a great package deal on several items. Always push for a deal as it is part of shopping for the larger items.
Then, out of the blue, we had a letter to announce the arrival of our possessions from the UK. We had some customs forms to fill in and return ensuring that all of the formalities would be taken care of in Vancouver. Everything was fine and we were asked when we would like it delivered.
Possession day arrived and we were shown around the property for a full inspection. Any problems were noted and either fixed there and then or put down for a "trades day" to come and fix all the problems . There weren't many - only damage to the floor caused by the appliance delivery men and nothing was a problem to Beattie Homes, as Denis had said, they had a great reputation to keep and wanted us to be happy in our new home. The removals arrived on time and were unpacked for us - it was a true door to door service! The only breakages were a couple of glasses and a small split in a wooden table where it had been in a dry environment - not bad for 7 months and thousands of miles! We finally had somewhere to call home again. A couple of days later we were even more surprised when first Sarah, then Denis arrived with new home hampers as welcome gifts and to make sure we were happy with our purchase - that would never have happened in the UK!!!!
So, now we've been here over 4 years and made it through several full winters we can honestly say it is everything and more than we had hoped for. The kids are growing up fast with the beginnings of a Canadian accent and are extremely happy. We feel lucky to live in a place where a nice house is affordable, we are surrounded by some of the most breathtaking scenery in the world and it has a great community spirit. There is so much to do - skiing, skating, ice hockey, indoor/outdoor soccer (football really!), camping, canoeing - the list is virtually endless.
It was hard work and highly stressful for the first 6 - 8 months, missing family and friends and struggling to adjust, but we feel now that it is the best thing we ever did. It's not for everyone - there are plenty of people who try and head back home, but at least they tried! Our big motivation was that we didn't want to sit back in 10 years wondering "what if we had tried it"? In the back of our minds we committed to giving it at least 2 years before we would give up.
You have to research everything and accept that the chances are you will have to start again in your career or take a step back for a couple of years. We are now giving our kids the lifestyle we could only dream of when we were in the UK, a dream which must be every parents wish to fulfill.
Whatever you decide, we sincerely wish you the best of luck and hope that you find this site useful in the pursuit of your dreams! Please feel free to use the contact us facility on the "Site Information" page with any feedback or ideas that may help other people.
Dave & Andie
Why the Website?
The whole idea about the website came about due to being asked to write an article for the Airforce Base magazine whilst I was in the process of leaving the Airforce.I was pondering starting the article when I came across the website building software Solo Build It! and thought that would eb a great idea. We had plenty of help and opportunity to research the move but still had a huge amount of surprises along the way.
Most websites are Consultants/Lawyers advertising their businesses and we had never found a complete information resource. We still have a long way to go, but we're adding new pages whenever we can and we know that one day we'll get there.
I have no programming skills/knowledge/experience whatsoever but the whole concept of the Solo Build It! software is that all you need to have is an idea and be able to enter text. Some people pay thousands for a website - you can choose Solo Build It! for a fraction and receive all the tools to build a website that actually works!!
For all the details on how to build your own website or to see what we did just go to the website button on the navigation bar or just Click Here!