Vancouver Relocation
Looking for a Vancouver Relocation expert? Then you have found the right place. Sue and Frank Gerryts are licensed Realtors based in Vancouver who specialise in offering the complete Vancouver relocation service. Whether you are moving within Canada or arriving from overseas they have the knowledge, expertise and local contacts to ease you into your new life in the Vancouver area. With a broad network of profesional contacts they are also able to assist anyone moving anywhere in the Province of British Columbia.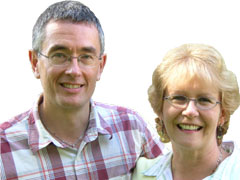 Sue and Frank Gerryts are both professional real estate agents who draw on their own experience of moving to Canada (having arrived as permanent residents in 2003) in order to help people make a successful move to this beautiful Province.
Sue and Frank offer Vancouver Relocation services with a particular focus on helping people identify suitable areas in which to settle. They have carefully selected partners throughout British Columbia so that they can help people whatever their needs or intended destination. Their help starts with the wealth of free information available on their web site - covering all aspects of moving to BC. Their weekly newsletter is also informative and motivational. When you arrive in BC they can help with area tours and information.
Their real estate services are tailored for buyers looking for help navigating the Canadian real estate market. Sue and Frank know from their own experience that buyers new to the country need special attention and they are pleased to offer more than is expected. Their partners around B.C. are also professionals with this extraordinary focus on the needs of the immigrant. If you are moving to B.C. and want help from people who believe that real help is more than real estate, then contact Sue and Frank using the form below.
This can also be used to register for their free monthly Vancouver Real Estate newsletter - packed full of the latest information about the housing market, average house values by area and accommodation type (includes % change over the last 12 months) and also tips and advice for Vancouver relocation. here's the latest information on the Vancouver Housing Market:
"The Greater Vancouver housing market continued its re-balance between sales and listings last month. The Real Estate Board of Greater Vancouver (REBGV) reports that residential property sales in Greater Vancouver declined 30.7 per cent in May 2008 to 3,002 from the 4,331 sales recorded in May 2007.
New listings for detached, attached and apartment properties increased 20.2 per cent to 7,390 in May 2008 compared to May 2007, when 6,149 new units were listed.
"With more property listings and a decline in the number of sales, prices are not increasing as rapidly, now down to single digits overall, which is good news from an affordability standpoint," said REBGV president, Dave Watt. "The housing market is at a balanced state, sellers have more competition and buyers have more selection to choose from."
Sales of detached properties in May 2008 declined 33.4 per cent to 1,203 from the 1,805 sales recorded during the same period in 2007. The benchmark price, as calculated by the MLSLink Housing Price Index®, for detached properties rose 8.4 per cent from May 2007 to $771,250.
Sales of apartment properties declined 30.5 per cent last month to 1,244, compared to 1,789 sales in May 2007. The benchmark price of an apartment property increased 8.7 per cent from May 2007 to $389,668.
Attached property sales in May 2008 decreased 24.7 per cent to 555, compared with the 737 sales in May 2007. The benchmark price of an attached unit increased 9 per cent between May 2007 and 2008 to $478,931."
Scroll down further for great testimonials from some very satisfied customers who successfully used Sue and Franks Vancouver Relocation service.
We have formed a partnership with one of the foremost International Currency Transfer companies - HIFX. Our friends and family are currently using their world class service and have found out for themselves the enormous difference they provide over the Banks. If you would like to be contacted via a no obligation email to learn why they are world renowned currency specialists and how they offer no commission/no fee transfers with the best rates - please annotate the "HIFX email" check box accordingly. No contact will be made without this permission.
I found Sue through her Vancouver Relocation web site (which is a great reference for all new residents in the area, as well as an excellent service for those planning a move). Having a real estate agent who understands the differences between house-buying in the UK and BC was a real plus for us, and Sue explains the process in a way that's easy to understand for newcomers.
The process is much better than in the UK, and as a realtor acting solely on the behalf of the buyer, Sue's Vancouver Relocation services didn't cost us a penny. I found this hard to believe given what a tremendous asset it was having our own expert guide us through the system. I felt like I was on an episode of "Location, Location, Location" [British TV property programme] and Sue was our very own Kirsty Allsop!
Stuart and Debs
Your website and emails explained the whole buying process so we were well prepared. Having Frank there too meant that we had a team working for us - you both worked so hard on our behalf.
We successfully bought a house - the whole process took more or less 4 days! Your service offers so much more than Real Estate - you truly are a Vancouver Relocation service. We would thoroughly recommend your service.
Jean and Iain - moved from Ireland to Vancouver