Toronto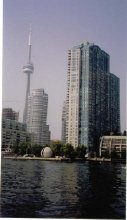 Toronto,(Huron word meaning "Fishing Weir"), is the Provincial capital of Ontario and is situated on the North shore of Lake Ontario in South East Ontario. As one of Canada's most southern cities it is also the 5th largest city in North America. The city area stretches 43 km from East to West and 21 km from North to South at its longest points and covers 641 square kilometers. If you include the islands and bays the shoreline on Lake Ontario stretches 138 km.
With 307 km of rivers and creeks running through the city ( all of which flow into Lake Ontario) and over 8000 hectares of parkland there is plenty of recreational opportunities. Water sports on the Lake are also freely available. A great source of information is the downloadable ebook Frommer's Toronto 2004 a good resource for the new resident or tourist!
The Greater Toronto Area (GTA) is made up of Downtown Toronto and four other Municipalities -
Durham,
Halton,
Peel
and
York.
This gives the GTA a population of over 5 million making it Canada's largest and most
Diverse
city. With around 45% of all new immigrants to Canada choosing Toronto as their home, it is a multi cultural city with over 90 different ethnic groups and over 100 different languages spoken in the GTA census Metropolitan area. The rest of this page will be dedicated to the Downtown area.
Originally, the City of Toronto

was a Native Indian village called Teiaiagon, then a French trading post and subsequently the British town York. In 1834 the city was officially proclaimed "Toronto" and has enjoyed a colourful history since then including an invasion by America and a Rebellion!
Being the Provincial Capital, the city has a booming Housing Market with plenty of housing options to buy or rent. Most will be high rise condo's in the downtown area.
Getting around the city on North America's second largest public transit system, the TTC, is easy and convenient. The subway system is linked with streetcars and buses covering 1200 kilometers of routes. You can get around the city on one fare as long as your trip has no stopovers and you must get a transfer when you purchase your ticket. If you are paying cash have the exact fare available as drivers don't sell fares or carry change! It is also cheaper to buy tickets or tokens from any subway station or Ticket Agent store than paying cash for every trip.
Schooling in the city is administered by the Toronto District School Board , the Catholic District School Board and the French Conseil Scolaire De District Catholique Centre-Sud. One essential piece of research you need to do BEFORE you purchase/rent a house is to find the school(s) you want your child(ren) to attend. This is vital as the schools are dedicated to particular residential area's so where you live decides where they go to school.
Though the Canadian education system is very good, some schools are better than others and then there is the match of elementary/high schools where one could be exceptional and the other poor. Dennis Paradis has researched all the schools in certain area's of the GTA and produced targeted reports to guide you. They can be accessed by clicking on the graphic to the left or you can just CLICK HERE!

Due to its multi-cultural society there is a wide variety of stores, restaurants and entertainment in the city; it even has the "PATH" system. This is 11 kilometers of interconnecting passageways under the streets which has more than 1200 stores and services available. So whatever the weather brings, you can get around. Toronto has an amazing Parks System with over 90 kilometers of paved trails there is something on offer for everyone. There are also Gardens and Conservatories located at various places through out the city.
A 10 minute ferry ride will take you to the Toronto Islands, a popular retreat, there is a summer amusement park, huge picnic areas, a beach and the islands are a car free zone so it's very popular with cyclists, walkers and in-line skaters. There is also a tram system that connects the three major islands.
The GTA has the biggest sports teams including the only remaining Canadian Major League Baseball team, the Blue Jays. The only Canadian based NBA team, the Raptors, the powerful Maple Leafs National Hockey League Ice Hockey team and the rejuvenated Canadian Football team the Argonauts.