Alberta's National Parks
As with all National parks in Canada there are rules and regulations in Alberta's National Parks that you have to adhere to when visiting the areas.
Do not feed or entice the wild life, it can be very dangerous for you and potentially damaging to the animal to do so. It is illegal to collect and remove plants, rocks, flowers etc. from the parks. Hunting is prohibited and fishermen must have a license. There is a charge to enter Alberta's National Parks, this can be paid at point of entry and can be bought either as a daily or annual pass and is valid for any national park in Canada.
There are numerous guides and books available to help you find your way to the sights. By far the best we have seen is Tim Jepson's Banff, Glacier and Jasper (National... . The book is concise, well written and has plenty of detail about Alberta's National Parks - a great addition to any library!
Banff , possibly the most popular destination of all Alberta's National Parks, is located approximately 110 kilometers west of Calgary. The town site of Banff is usually very busy with tourists, skiing in the winter and tour buses in the summer. The surrounding area is of outstanding beauty and offers many mountain sports, hiking, mountain biking, white water rafting, skiing, snow mobiling - the list is endless. It's convenience of being so close to the city of Calgary makes it a popular choice for week-end getaways.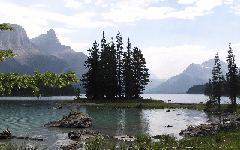 is located approximately 620 kilometers north west of Calgary and 366 kilometers west of Edmonton. The town site of Jasper is far less commercialized than Banff and gives the feel of a frontier town. It has a wide variety of stores, accommodation, bars and restaurants that will cater to most needs. Once again the surrounding area is stunning and offers some sort of outdoor activity all year round. The Icefields Parkway runs south from Jasper to Banff and is probably one of the most breathtaking drives you will ever take, though be prepared for all the RV's driving it in the summer months. Maligne Lake (right)is home to Spirit Island - possibly the most photographed part of Canada!
Kananaskis Country (Provincial Park)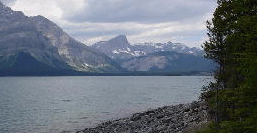 is usually missed by most tourists as they head off towards Banff. The Park is located 90 kilometers southwest of Calgary and home to some spectacular scenery. It is used mostly by locals that take advantage of all the possible outdoor pursuits available. Kananaskis has a small village center which is close to the Nakiska ski area and the beautiful Kananaskis golf course. Kananaskis is perfect for camping, hiking, skiing, boating and fishing. Further south, the Upper and Lower Kananaskis lakes in Peter Loughheed Provincial park make for some spectacular scenery.
Though not a National park, Kananaskis is very popular with Albertans all year round and is worthy of a mention amongst the National Parks.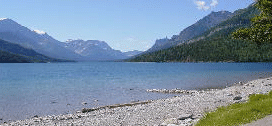 is located 275 kilometers southwest of Calgary and borders with the state of Montana, USA. The lakes and landscape of the National Park are beautiful, from rolling prairie hills you arrive at the spectacular mountains. Upper Waterton lake is the deepest lake in the Canadian Rockies. There is an abundance of wildlife in the area so the chance of spotting something is high as in all of Alberta's National Parks!
Elk Island National Park is located approximately 45Km's East of Edmonton and is the only Park to be totally fenced in. The park is designated to protect the endangered Aspen parkland which is home to roaming herds of Bison, Elk, Moose and Deer, along with hundreds of species of birds.
Like all of the parks in Canada, Alberta's National Parks have an abundance of outdoor pursuits to enjoy in the park from camping to hiking, canoeing and mountain biking. Please stay on the trails and respect all rules - they are enforced by the wardens. Most of all - enjoy it!